More about Four Ashes History HERE
Four Ashes Garage
, Four Ashes Road, Dorridge, Solihull (opposite Gate Lane) was bought by John Trevor (Jack) Moss & partner, Dennis Cooper in 1954.
The story is that Jack & oppo, John Thomas (Tom) Butler were looking for the site & pulled up outside the Doctors Surgery in Station Approach, Dorridge in a pre-war Alvis.
Doctor Allen, a car nut, came out to look at the car, Jack & Tom then asked where the garage was that was for sale, so Doc Allen took them round to the garage, then a small wooden building, about a mile away.
Needless to say Doc Allen became a lifelong friend, they looked after many of his interesting cars, mainly Bentley's, over the next 35 years.
Jack soon established an enviable reputation for being able to repair car's which other's couldn't, customer's came from far & wide as well as a lot of local interesting cars, the ordinary cars of the local populace were well served by Jack's expertise aswell.
Dennis Cooper & Jack soon had a parting of the ways.
In the 1950s Jack / Four Ashes dealt in several Alvis cars, buying & selling them - we have found a couple of adverts from Motorsport in 1956 advertising a '1928 Alvis 12/50 Beetleback' & another from 1958 advertising a '1931 Alvis Saloon'
In the mid 1950's Jack met Alex Francis & they converted some cars to Trials Specials, one of which was the Francis / Moss Special, this originally had a Singer engine, it may have originally been a Pre-War car as the original engine was sold to someone in Scotland in 1949.
We have some correspondence with an (the) owner of one those Specials.
Alex Francis was a local builder, he was later to become Alexis Cars in 1959, a very significant F3 & other single seater manufacturer, this was in partnership with an Australian called Bill Harris.
See:
http://www.f3history.co.uk/Manufacturers/Alexis/alexis.htm
and
http://www.alexisregistry.com/ History page.
Anyway back to Four Ashes history:
Tom acquired the JAP engined Carlmark Shelsley Walsh special, it was hillclimbed 5 or 6 times, Tom swapped a car for a van to transport it, only problem was the box was too short !
Prescott was a local hill, here are some photo's from there.
The old Four Ashes Garage site is now the 'Porsche Centre, Solihull' - it still occupies the same parcel of land that the original Four Ashes Garage did all those years ago, albeit built all around instead of open fields.
Recently, in 2011, I (Chris Adams) chatted with Tom about the Carlmark Special -
Tom put 2 boards 'hanging out the back' of the van as the box was too short.
Tom didn't realise the Carlmark was in fact the only one made Prewar, it was built by H.D Carlmark and had a Fiat 500 (Topolino ?) front end grafted on to a GN chassis and a solid rear axle - it understeered a lot !

Jack couldn't sell the Bugatti Type 35A for £450 in the Four Ashes photo gallery, the model was recntly confirmed by Mr Fells at the Silverstone Classic 2013, Mr Fells tried to get his father to buy it for him but his father didn't want to know, Jack had it for 2 years or so before it was sold.

The garage was rebuilt as a typical modern 60's style brickbuilt garage by John Hassall from near Fillongly.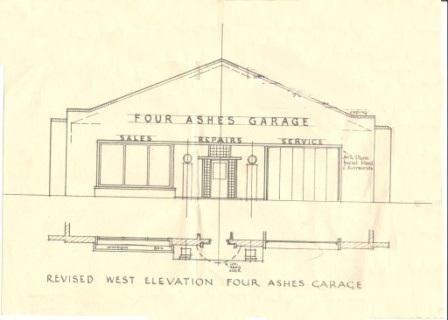 This line drawing was the Architects Drawing that was accepted by Solihull Council in 1957,
it was built exactly as the drawing with the 2 fuel pumps either side of the main entrance at 1st, these were moved to an island in the middle of the forecourt which allowed more pumps / cars.




About 50ft wide, this encompassed the showroom on the left (below the Four of Four Ashes) which was accessed from just around the corner of the left side of the building, the central entrance / reception area had the petrol attendants office just inside this central entrance, the office was situated above the reception area and the one service bay entrance was on the right, accessed by green sliding doors.
The rear of the garage workshop was a steel structure with corrugated asbestos sheeting, as were most industrial building's at that time.




all images & text on this site belong to the Webmaster of this site
© 2010


back to top